Fantastic Fall 2017 Wedding Dress Trends
This Fall is truly the best time ever to be a bride! Your options for dress styles, fabrics and embellishments are limitless!  The Iconic fashion houses have blown the roof off the traditional and have taken the 2017 trend in many, never seen before directions. Classic styles as well as new, avant-garde dramatic styles are in! Now every bride can take center stage in the dress/pants (yes, pants!) of her dreams!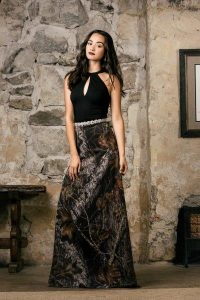 Here are the top 16 trends seen on the runways for this Fall;
cascading ruffles- ruffles everywhere- made of fringe, lace or metallic fabrics
embroidered flowers of all colors and shapes on just a little or every part of your gown, headpiece and veil
metallic touches of gold, silver and champagne – used as an underlay, a panel, woven into the fabric, as part of embellishments or appliques around the edge of a veil- You can have the Midas touch!
minimalism – elegant styles making their own statement in elegant fabrics
Hollywood Classic-ultimate demure styling, form fitting bodice atop petticoat skirt, lace from head to toe, sweetheart neckline with peek-a-boo lace to the neck
rising necklines-plunging necklines are still in, too
long sleeves- romantic, translucent and billowy, fitted, lacy and adorned with feathers
tea length & tiered skirts -asymmetrical or straight
blush pink fabrics – OH! Just imagine!
off shoulder or one shoulder
pants – yes, pants !- fitted to full, lacy to sleek, even peek-a-boo
Capes instead of veils- like royalty- with all the matching embellishments to the dress
Asymmetrical features such as hems, skirting, embroidery over one shoulder, sexy side slits
peek-a-boo "naked" panels, on parts and even on the entire dress
feathers – feathers on wrists, over shoulders or woven into floor length dresses and capes
long and large statement earrings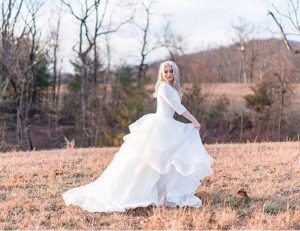 With such an endless array of options and style combinations, shopping can be very challenging.  It's a good idea, before you go shopping, to consider your body type and what styles will accentuate your best assets. Keep in mind, you probably will not fit into just one category, but you definitely have at least one asset! Here are some guidelines-
Petite Silhouette– Your best look is to create long lines from head to toe. This is done best with airy sheaths and structured trumpet styles. The mermaid is not totally out, but choose a slim version with minimal poof to the skirt. Empire waistlines can elongate your legs. High-low hemlines can make your legs look longer. Accents like embroidery, beading and appliques should be kept small but applied from head to toe to elongate and create an illusion of height. Don't forget to take your heels shopping, too!
Fluffy (Plus) Size Silhouette– Look for dresses with a higher neckline such as a scoop, asymmetrical pleating, sheath styling and a slight train. The desired effect is to lengthen and slim your silhouette by drawing the eye inward. If you want a curve hugging gown, add a neckline to knee embellishment of some kind. Curved seams will also direct the eye. An empire waist creates longer lines. Chiffon sleeves and drape over the shoulders create an alluring effect. A lace illusion neckline is equally captivating. If you plan on wearing heels, be sure to take them with you.
Busty Silhouette– So you will need to choose to either enhance your assets or minimize them. There is no one best answer for all. First, strapless can be a challenge but a straight line across can be your friend. Sweetheart necklines with straps and a full skirt can add class and balance. Another option is an off the shoulder look with capped sleeves. A favorite option is a scooped neckline draped with illusion in a cowl style.
Lean and Straight Silhouette– Your choices are limitless! Floor length drama is yours. But, the illusion of curves will take some experience to create. The trick is to draw the eye outward. Voluminous skirts and lots of ruffles create curves with a dramatic flair. Illusion side panels will do the trick. A bodycon dress or sheath with some curves in the details would work for you, too. A front or side slit would show off your great legs. You can balance your height with a high neckline and any style from A- line to mermaid. Cropped tops can also "minimize" your stature.
Hour Glass Silhouette– Show off your waist! Fit and Flare styles, the Mermaid, tucked skirting, glamorous waist accents, skin baring cutouts, asymmetrical tiers of tulle or ruffles are all gorgeous on this body style.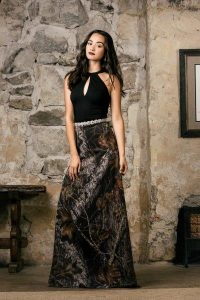 Before you know it, you will be taking center stage as the leading lady at your personalized venue.  Wherever you will be, from beach to backyard to ballroom; Whatever your style from flower child to queen and everything in between, you will be the star in your own production.
Carrie's Bridal has the professionals that can give you the unique, star-like look of your dreams. They can help you find your "WOW" "GORGEOUS" dress – the perfect dress to complement your shape, style and venue. With over 500 dresses in store, their professional staff will help you realize those dreams for the perfect wedding day. They have ALL styles, All sizes and All prices and all the experience and imagination that you need!
So" flower child" or queen and anything in between – let your imagination create your dream!
Your big day is getting closer and closer so grab your best friends and shoes and lets' get YOUR GORGEOUS on!