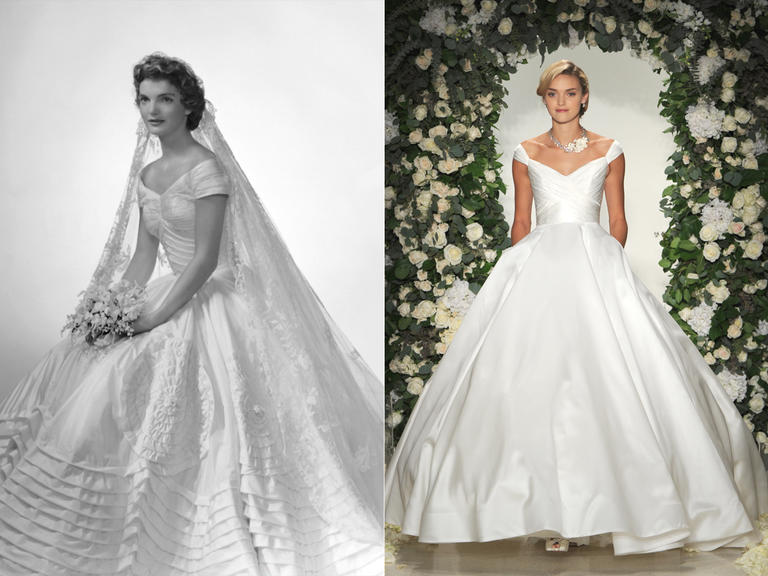 Your wedding day is one of the most important days of your life, and this goes double for ladies who have been looking forward to the moment they walk the aisle since childhood. So it isn't surprising that many women will drop big bucks to look fantastic on her big day. This trend can be seen throughout history as well; many iconic historical women from the near and distant past had the same dreams and went to the same lengths to make sure she was a force to be reckoned with when she said her vows.
Queen Elizabeth II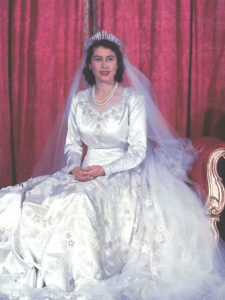 We know Queen Elizabeth II today as a tough, gutsy lady who lords over the UK, Canada, Australia and New Zealand with a fair and popular hand, and often she's seen in the company of her husband of better than sixty years, Prince Phillip. What many don't know, especially those of us native to the Western world, is that Elizabeth and Phillip became engaged amidst controversy, especially having to do with Phillip's royal status (or lack thereof); Elizabeth was and remains adamant that she fell in love with Phillip before her fifteenth birthday, and despite many arguments against the engagement stayed forthright and unyielding in that fact. They were married in 1947, just two years after World War II had wrapped up; England, like many European countries straining under relief efforts and taxed resources, had ration policies in place that made it very difficult for even the Princess and her groom to find adequate clothing. Elizabeth paid for the fabric used to make her dress using ration coupons, setting the stage for a character that remained true to her people's struggles for decades to come. The princess's gown, made with painstakingly acquired ivory satin and spattered with imported pearls, prominently featured a fifteen foot train and a silk tulle veil, complete with a tiara given to Elizabeth by her mother.
Jackie Kennedy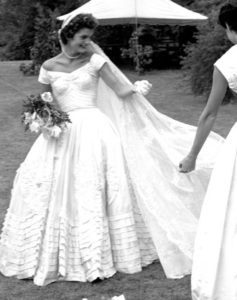 No American tragedy had ever resonated as powerfully as John F. Kennedy's untimely assasination in 1963, and no one seemed more stoic during that time than Kennedy's widow, Jackie, who sat beside her husband as he was sniped and wore her blood spattered clothes to the press conferences that followed. While their romance was nowhere near long enough, Jackie's wedding to John took place in 1953 on a picturesque farm in Rhode Island. Jackie's dress was pointedly traditional at the specific request of her family, with a full train and a veil along with family heirlooms such as a pearl necklace and a bouquet made of gardenias and orchids in muted hues of white and pink. Although it is widely regarded as one of the most beautiful dresses in history, Jackie later confided in friends that she wasn't mad about the dress due to its accentuation of her small bust. Jackie's dress can be seen now at the Kennedy Library in Boston, where it's displayed for the Kennedy's still-significant admirers.
Yoko Ono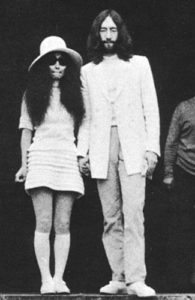 The 60s were the heyday of the Beatles, and no member gained more popular traction on the musical and political scene than John Lennon. So it came as a surprise to many of his fans when he began a relationship with Yoko Ono, a Japanese artist and activist who was relatively unknown in the United States and the UK. However, despite many controversies surrounding their relationship, the two eventually became engaged and married at a registry office in Gibraltar in 1969, some three years after they had first clapped eyes on one another. Their marriage was rocky, punctuated with Lennon's assassination in 1980, but nonetheless their romance was one that was and remains one of the most madly devoted and passionate in popular history. Yoko's dress was largely an unnecessary addition due to the circumstances of her marriage to Lennon, however for the occasion she donned a short white mini dress, a large sunhat and sunglasses. The dress was said to be poignantly resonant of the couples' personality and remains an iconic image even today.
Grace Kelly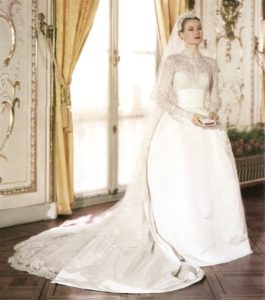 The 50s saw the influx of one of the most prominent actresses to grace the silver screen, Grace Kelly, who lit up many film noir projects until the end of her career in the 80s when she was suddenly killed in a car accident. She was married in a largely publicized event to the Prince of Monaco (complete with a $2 million dowry!), at which point her focus shifted away from her acting stint and onto her duties as Princess. According to Monaco's laws, the wedding was a massive affair with better than 20,000 attendees and reporters from all over the world. Kelly is said to have been fully and sadly aware that the move into foreign politics could mean the end of her career as an actress, as it effectively proved to do, however, ever staunch, she went through with it and is remembered as an excellent ruler. Her dress, accordingly, is one of the best remembered gowns of the 20th century. It featured a bodice, a petticoat, and a lace and pearl-encrusted veil. Today, it can be viewed at the Philadelphia Museum of Art in all its glory, and is said to inspire many modern celebrity dress designs even today.